It seems the visual range for the enemies are a 180 degree half circle instead of a cone. Therefore, dogs can see you if you're directly to the side of them, which makes the mission quite difficult if you ask me, but hey, it's a good change of taste.
I tried more about the visual glitch. It seems it only happens on 1280*800, but not fullscreen. Sometimes, it's difficult to tell whether I'm too sensitive or anything. It's difficult to catch that particular frame I saw. Let me see whether I can record the pick out the frame.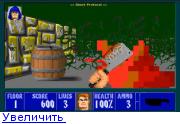 After I caught the frame from my recording, I feel like this is the shadow you see when the mission is active. Probably I'm standing in the patrolling path of some dead dogs, but their shadows keep patrolling even though they are dead. I tried to replicate this in fullscreen mode, but it doesn't happen although I can't guarantee my feeling is always correct. I made a save in FS mode and load it with 1280*800, the glitch happens again. According to my assumption, I tried to stand in the patrolling route of the second ring of dogs, but this doesn't happen...